Locations/Group companies
LOCATIONS / GROUP COMPANIES
Constructing networks with "Reliability."
Providing required services to places where they are needed.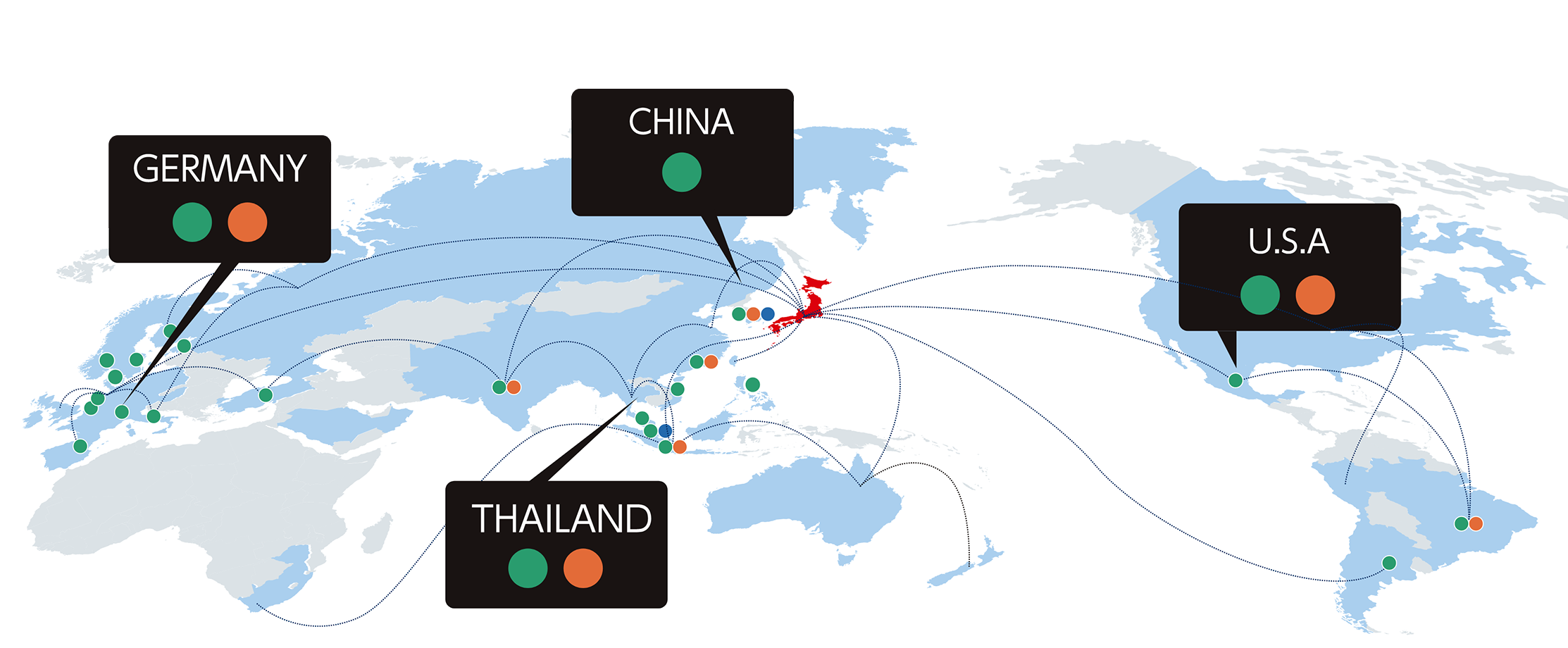 Local corporations, branches, and representative offices
Countries with a track record of delivery
Sales office for Coating Equipment Devision
Sales office for Forging Machinery Devision
Sales office for New Components Devision
OVERSEAS OFFICES
AO Machinery Service GmbH

Asahi Sunac (Shanghai) Co., Ltd.

Asahi Sunac Machinery Service [ Thailand ] Co.,Ltd.

Asahi Okuma Industrial Co., Ltd. Taiwan Branch

ASAHI AMERICA CORP.
DOMESTIC LOCATIONS
Office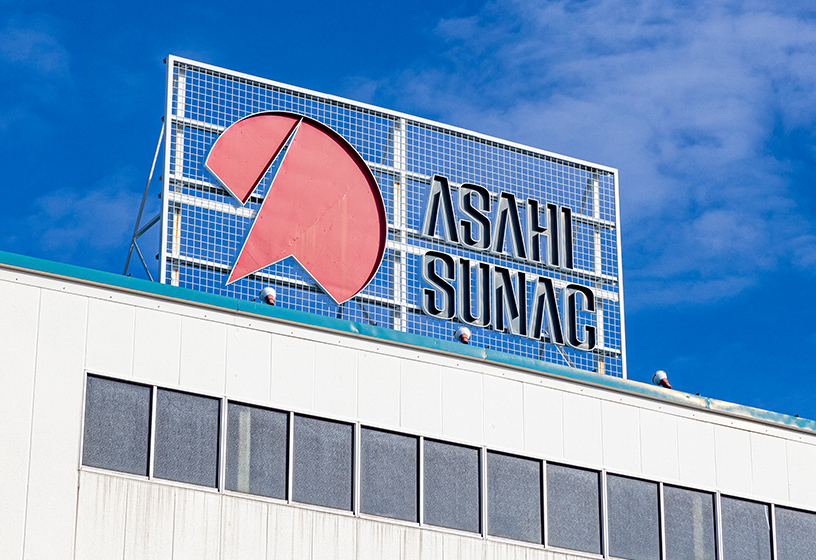 Headquarters
5050 Asahi-mae, Owari Asahi-shi, Aichi-ken, Japan 488-8688
【PHONE】:+81-561-53-1213 /
【FAX】:+81-561-54-8847
Sapporo Office
3-8, Higashi 14-chome, Kita 12-jo, Higashi-ku, Sapporo-shi,Hokkaido, Japan 065-0012
【PHONE】:+81-11-712-0927 /
【FAX】:+81-11-751-8697
Tohoku Office
9-3 Kabanomachi, Wakabayashi-ku, Sendai-shi, Miyagi Prefecture, Japan 984-0037
【PHONE】:+81-22-286-7177 /
【FAX】:+81-22-286-7175
Kanto Office
224 Kano, Okegawa-shi, Saitama Prefecture, Japan 363-0001
【PHONE】:+81-48-773-2121 /
【FAX】:+81-48-773-7443
Tokyo Branch Office
5th Floor, Medix Building, 4-1 Nishifukuda-cho, Kanda, Chiyoda-ku, Tokyo, Japan 101-0037
【PHONE】:+81-3-3254-0911 /
【FAX】:+81-3-3258-1968
Yokohama Office
741-8 Shimowada, Yamato-shi, Kanagawa Prefecture, Japan 242-0015
【PHONE】:+81-46-268-7271 /
【FAX】:+81-46-268-7280
Tokai Office
3668-12 Nishikaizuka, Iwata-shi, Shizuoka Prefecture, Japan 438-0026
【PHONE】:+81-538-33-3700 /
【FAX】:+81-538-33-3705
Hokuriku Office
86-1 Shinbohon 5-chome, Kanazawa-shi, Ishikawa Prefecture, Japan 921-8062
【PHONE】:+81-76-240-7273 /
【FAX】:+81-76-240-7271
Chubu Office
5050 Asahimae-cho, Owariasahi-shi, Aichi Prefecture, Japan 488-8688
【PHONE】:+81-561-53-1213 /
【FAX】:+81-561-54-8847
Osaka Office
28-4, 3-chome, Tarumi-cho, Suita-shi, Osaka Prefecture, Japan 564-0062
【PHONE】:+81-6-6386-8105 /
【FAX】:+81-6-6386-6771
Hiroshima Office
16-17, 3-chome, Minami kanon-machi, Nishi-ku, Hiroshima-shi, Hiroshima Prefecture, Japan 733-0035
【PHONE】:+81-82-291-0188 /
【FAX】:+81-82-291-0162
Kyushu Office
2-5, 2-chome, Isouda, Hakata-ku, Fukuoka-shi, Fukuoka Prefecture, Japan 712-0881
【PHONE】:+81-92-582-5155 /
【FAX】:+81-92-582-4528
Kagoshima Office
10-21, 1-chome, Komatsubara, Kagoshima-shi, Kagoshima Prefecture, Japan 891-0114
【PHONE】:+81-99-267-2460 /
【FAX】:+81-99-267-6317
Factory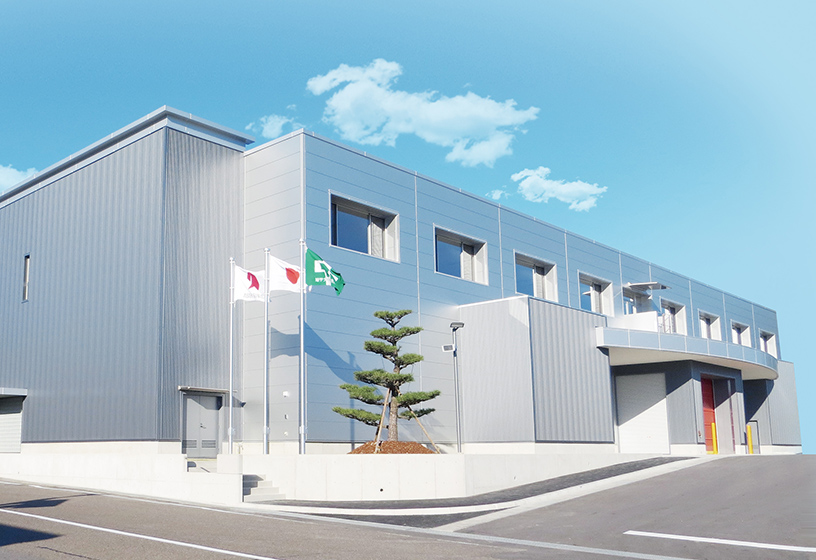 Factory
5050 Asahimae-cho, Owariasahi-shi, Aichi Prefecture, Japan 488-8688
【PHONE】:+81-561-53-1012 /
【FAX】:+81-561-54-3934
GROUP COMPANIES

Service Ace Co., Ltd.

5050 Asahimae-cho, Owariasahi-shi, Aichi Prefecture, Japan 488-8688

【PHONE】:+81-561-53-1531 /
【FAX】:+81-561-53-1533