Asahi Group Environmental Policy
Environmental Philosophy
As a company that seeks to create new technology, we are striving to preserve and protect the environment of our customers by engaging in environmentally friendly manufacturing technology. In addition, we are striving to be a zero emissions company by raising environmental awareness in all employees and by being engaged in sustainable corporate activities that allow people to co-exist in harmony with the environment.
Environmental concept "Ec'Coater"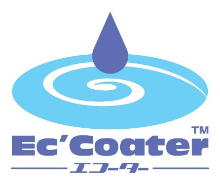 "Ec'Coater" is a word we created that combines the concepts of ecology and a coater. This original concept came from our attitude basing the environment first in our business.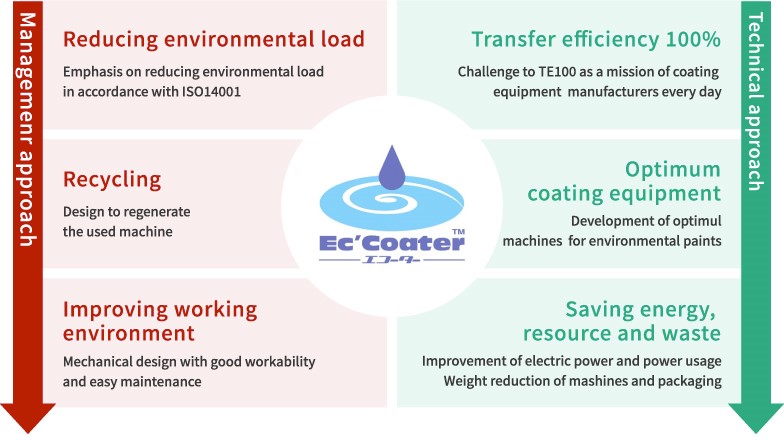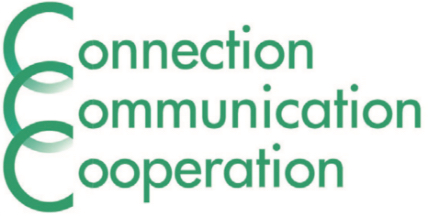 We will continue to challenge solutions by constantly incorporating the most advanced technologies such as IoT and deepening "connection", "communication" and "cooperation" with customers.
Challenge TE100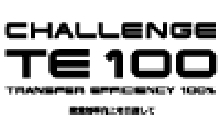 TE100 stands for "Transfer Efficiency 100%". As a coating machine manufacturer, we feel it is our mission to get as close to 100% paint transfer as possible, and we are working on a daily basis in technical development to achieve this milestone.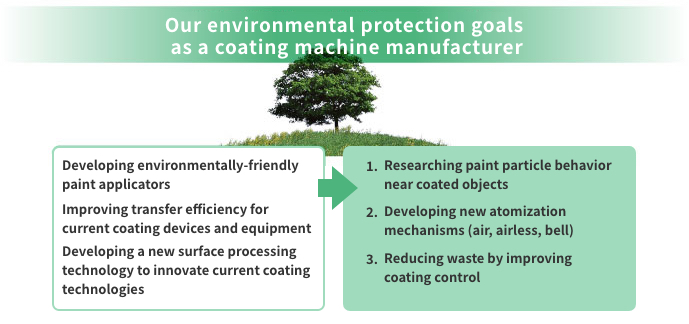 Acquisition of Environmental Management System certification ISO14001
Asahi Sunac Corporation joined with Service Ace, Inc. for an international environment management system, received review and registration from the Japan Quality Assurance Organization, and on February 1, 2002 acquired ISO14001 certification.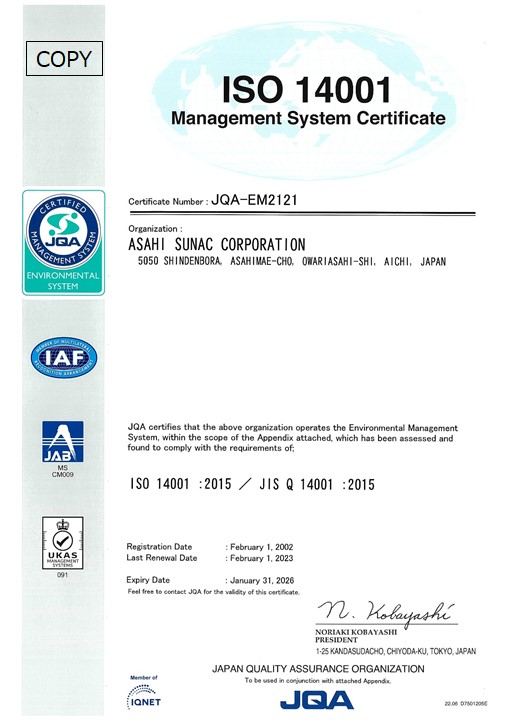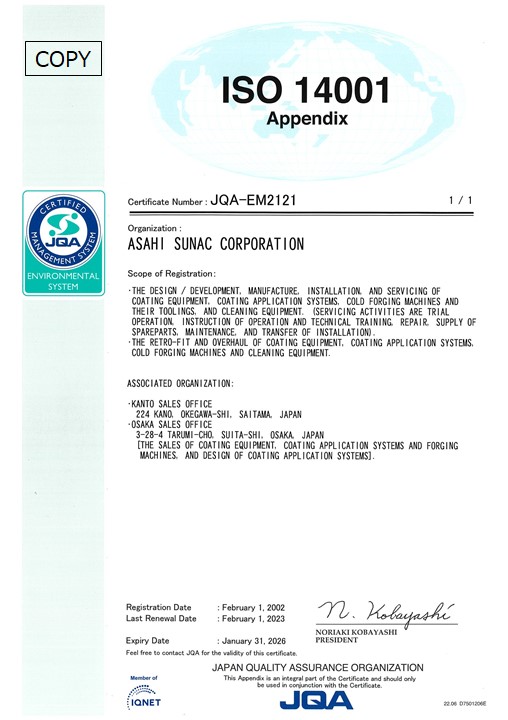 ISO 14001
Asahi Sunac complies with the Environmental Management System ISO14001.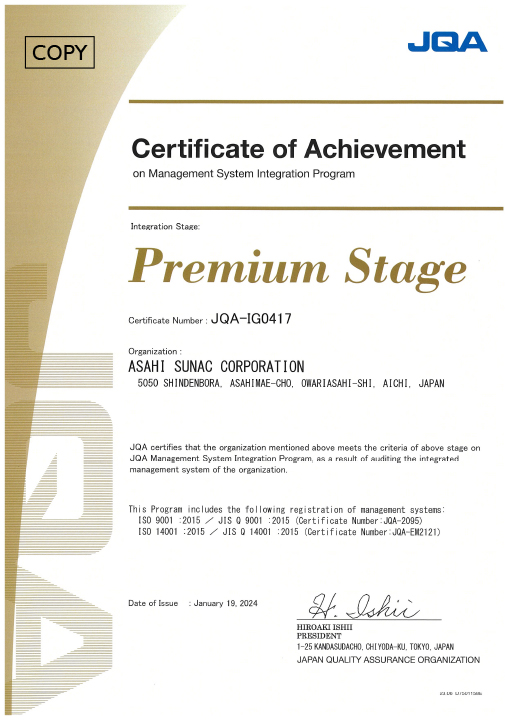 Ceritificate of Achievement
Asahi Sunac has been judged to meet the criteria of the Premium Stage of JQA Management System Integration Program.
Energy Saving Activities
Six activities to significantly reduce carbon dioxide emissions
Approximately 95% of all of our company energy consumption is from electrical power. In order to use our electricity more efficiently, we introduced a power surveillance system in March 2008. This system allows employees to access and view the power consumption of their own and every other division every day, 24 hours a day, and view related graphs, etc., on their computers in real time. Using this data as a resource, each factory and office is able to implement energy saving measures and improve or reduce their consumption. Using these measures, we have been able to significantly reduce levels of carbon dioxide released into the atmosphere and are able to continuously adjust our plans to reduce our environmental impact.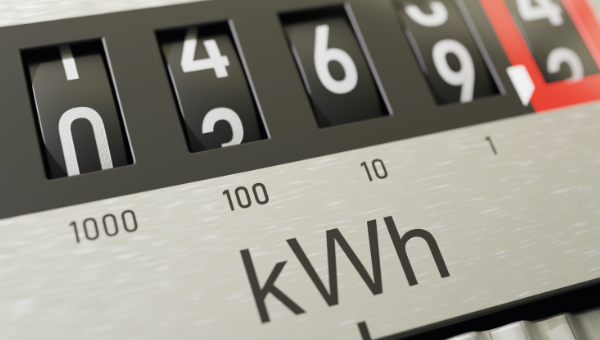 Power Surveillance System

Introduced the power surveillance system at 72 locations from March 2003. Monitoring 24 hours in real time.
Demand Monitoring

The maximum demand power (demand value) is predicted every 30 minutes, and an alarm is triggered when it/the power exceeds the target value to control the power peak. Raise awareness of energy saving in the company to reduce power consumption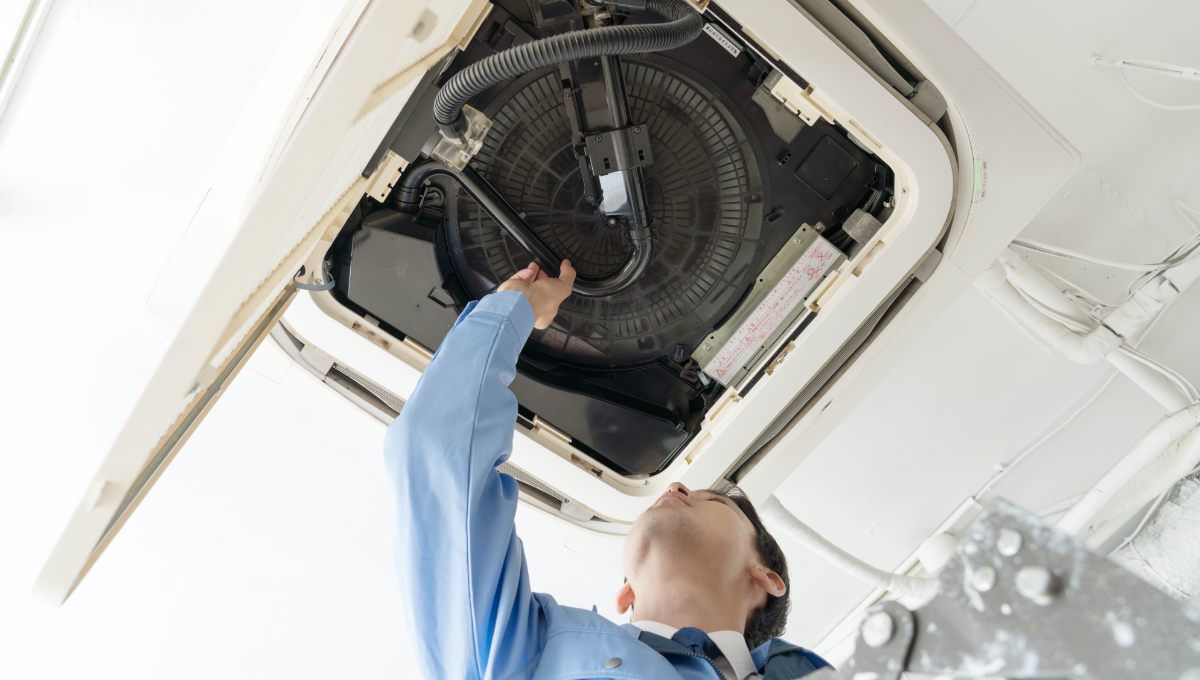 Management of air conditioning

Temperature setting for air conditioning units are enforced and power during standby mode has been reduced. Heat shield paint has been applied to the rooftops of factories and office buildings, reducing air conditioning power consumption. Older air conditioning models have been replaced and updated with new energy saving units, reducing power consumption.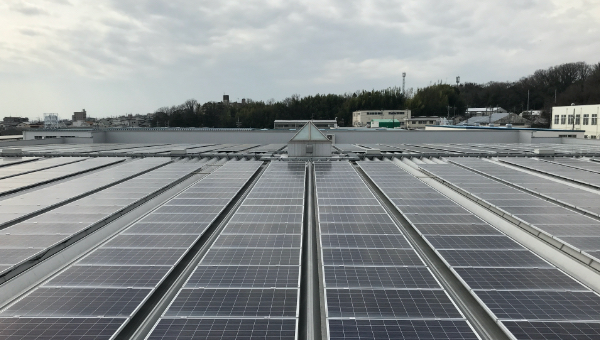 Solar Power

900 solar panels are installed on the roof of the head office factory to generate 260,000 KWh of electricity annually. At the Kanto sales office, self-consumption solar power generator (80,000 KWh per year) has been installed to reduce CO₂ emission.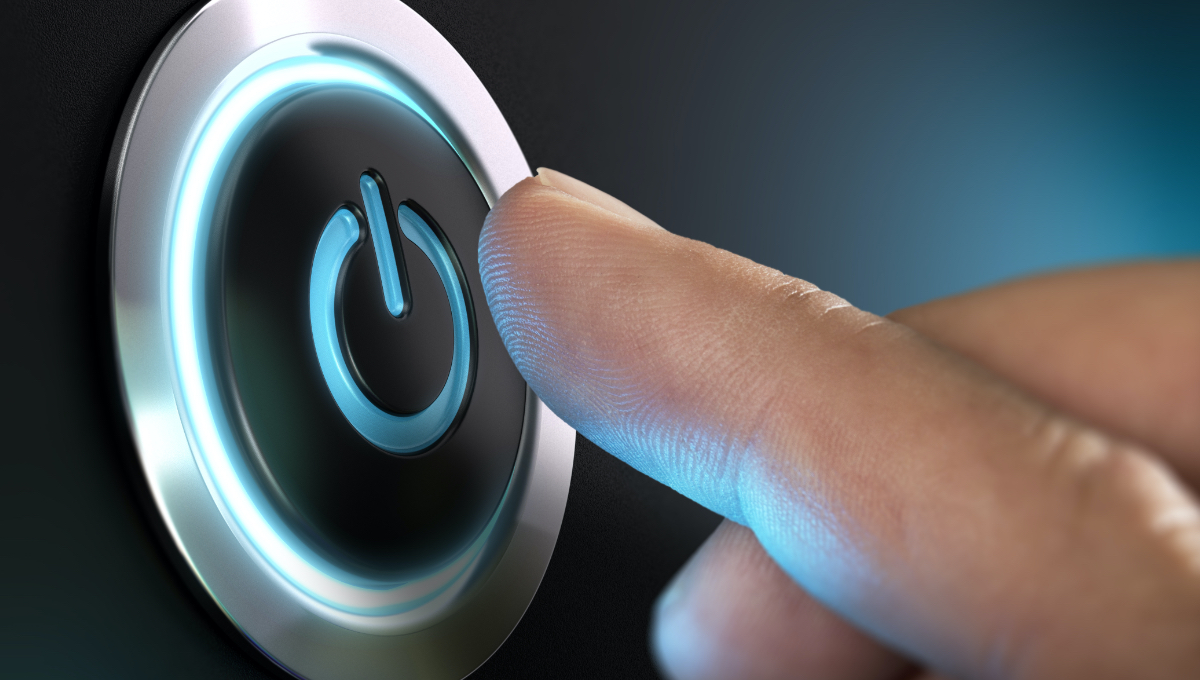 Management of machine tools

Each machine tool has been assigned a control manager who is in charge of turning off the main power during scheduled times, reducing power consumed by hydraulic pump units and coolant pumps in standby mode.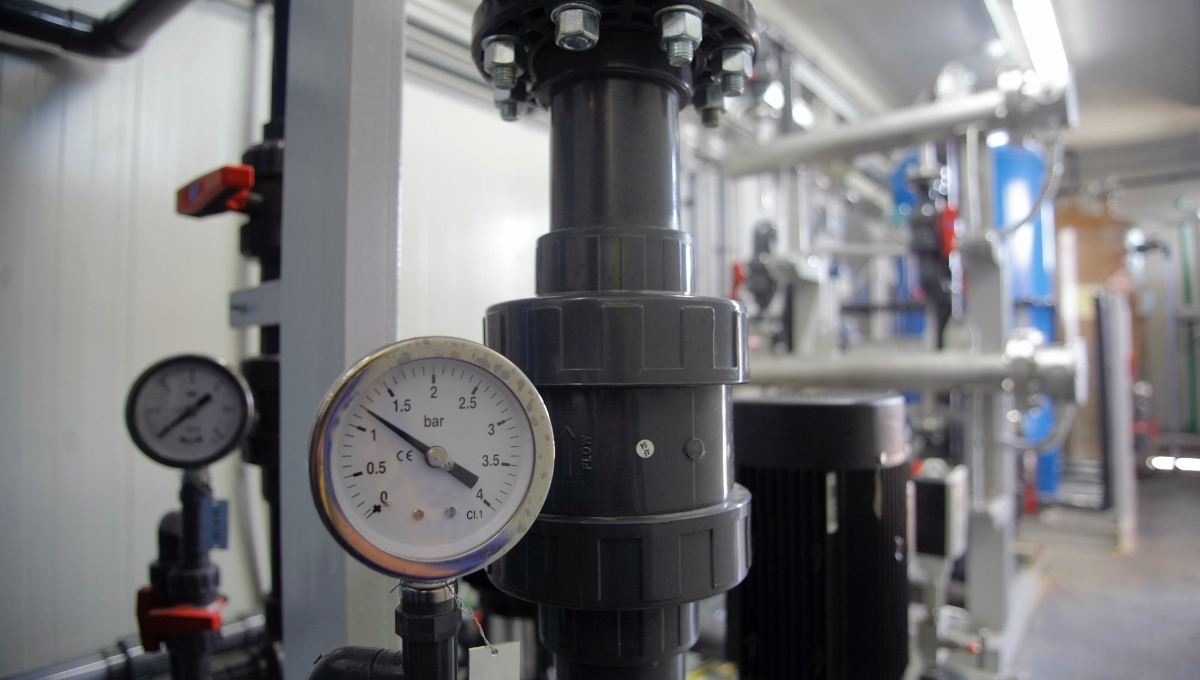 Management of compressors

"Energy saving compressor units have been introduced to help reduce power consumption. Compressors are only run during scheduled production to help reduce unwanted usage and power. Air leak sensors are used to check air leaks and help eliminate wasted air usage."