Coating Equipment & Engineering Division
Coating Equipment & Engineering Division
Bringing science to "Atomization"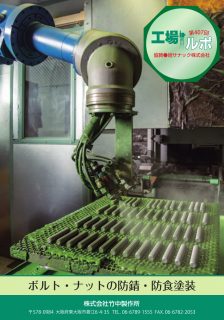 Anti-corrosion coating for bolts/nuts
Metal/metal parts

Steel/iron
Used paint:

Solvent paint
Learn more
The company uses its unique surface treatment technology to manufacture bolts and nuts used in various fields where high durability and safety are required. They are positively introducing system which contributes to environmental measures, labor saving, automation, and energy saving. This time they introduced a paint heating device and an automatic gun. By keeping paint temperature and viscosity of the paint constant throughout the year, simplified quality control, and achieved uniform coating film.
Return to overview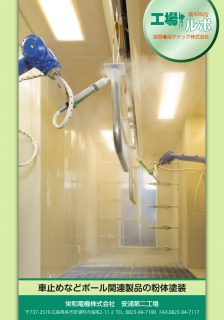 Powder coating for pole-related products such as car stops
Metal/metal parts

Steel/iron
Used paint:

Powder paint
Use product:
Learn more
This plant is engaged in coating of car stops, sign posts, and other items to be seen at in shopping mall. This time, they installed a new fully automated powder coating system to replace with the old facilities, to improve the working environment of severe coating sites, and to adapt larger and heavier workpieces. Labor saving has been achieved by introducing robot and reciprocator. In addition, production efficiency increased by 30% and paint consumption decreased by 10%.
Return to overview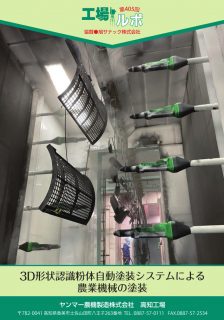 Coating of Agricultural Machinery with 3D Shape-Aware Powder Auto coating System
Construction machine

Agricultural machine
Learn more
This company which manufactures agricultural equipment, carries out solvent coating with automatic and touch up by manual. While the high speed of the production line required the skill of workers, the latest automatic powder coating system was introduced to solve the problem of shortage in human resources and environmental issues. This system maintains the proper spray distance by the sensor information. It enables uniform and high-quality coating with various complex shapes, both large and small. It greatly reduced touch-up and re-coating work.
Return to overview
CONTACT
Please feel free to contact us for any inquiries or questions regarding the coating equipment and engineering.
CONTACT
Please feel free to contact us for any consultations or questions related to the services of Coating Equipment Division.