Making the difficult and time-consuming easy.
We contribute to product manufacturing that has value for our customers.
Expanding the possibilities of Net Shape
Net Shaper is our original development concept that offers a forging system that aims to reduce secondary
processing after forging and improve work environments to reduce total costs through the optimal design of forging processes and molds and the development of new functions and mechanisms of forging machines.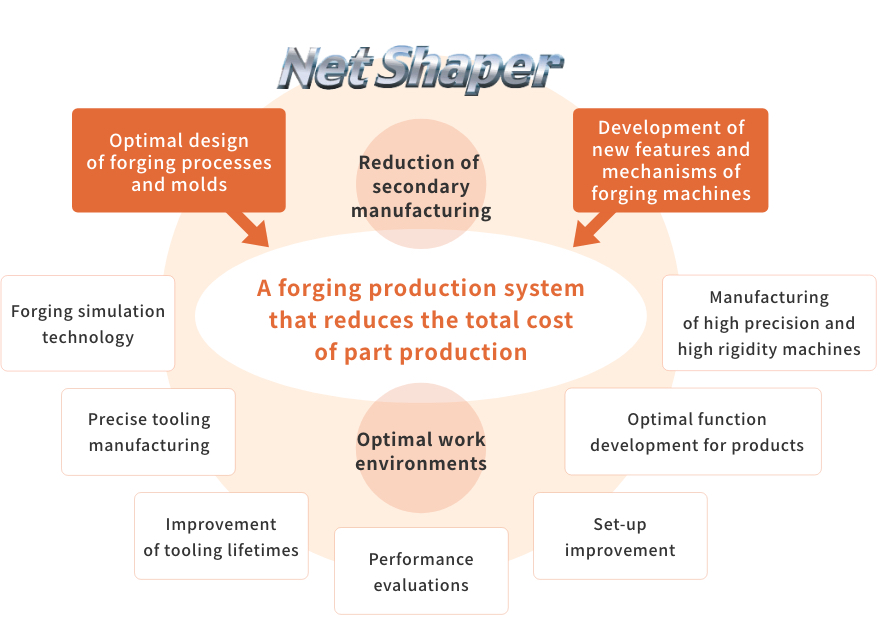 Optimal development of forging processes and tooling
Forging simulation technology

We utilize forging simulation technology to realize tooling with higher product precision and mass production characteristics.
We foresee forging problems and other occurrences for efficient development.

Precise tooling manufacturing

In addition to guaranteeing the precision of forging products, we optimally design tooling to restrict the burden on tooling to extend lifetime of tooling.

Improvement of tooling lifetimes

We improve the lifetime of tooling based on FEM structure analysis to come up with shapes before processing, reduce forging loads, change the shape of tooling, and reduce the concentration of tensile stress.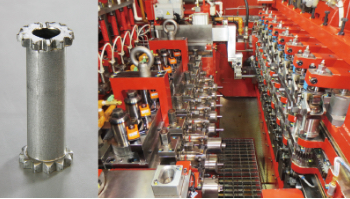 Performance evaluations
We evaluate tooling by the performance of forging machines and forging tests and evaluate products formed by tooling. We clarify issues and points of improvement.
Development of new features and mechanisms of forging machines
Manufacturing of high precision and high rigidity machines

To improve the precision of forging products and improve productivity, we reduce time-related deterioration through highly rigid machine manufacturing and maintain high precision manufacturing over the long term.

Optimal function development for products

Through consulting, we develop products while balancing quality and accuracy with the necessary optimal functions.

Set-up improvement

We promote set-up improvement through the development of new functionality and new mechanisms so that the changeover time for the exchange and positioning of materials and tooling can be shortened.
CONTACT
Please feel free to contact us for any inquiries or questions regarding the forging machines and tooling business.