Micro Coat Air Spray Automatic Gun: Pearl Gun AGB50/Low-pressure Air Spray Automatic Gun: Microace AGB51 AGB50/51
Automatic Coating Guns
Micro Coat Air Spray Automatic Gun: Pearl Gun AGB50/Low-pressure Air Spray Automatic Gun: Microace AGB51
AGB50/51
Road vehicle

Metal products

Machines

Woodworking products

Building materials

Electrical machinery

Reduce paint usage

Improve coating film quality
Ideal for high-grade thin-film pearl coating with metallic or pearl paints./Low-pressure air atomization provides both a high transfer efficiency and uniform film coating quality.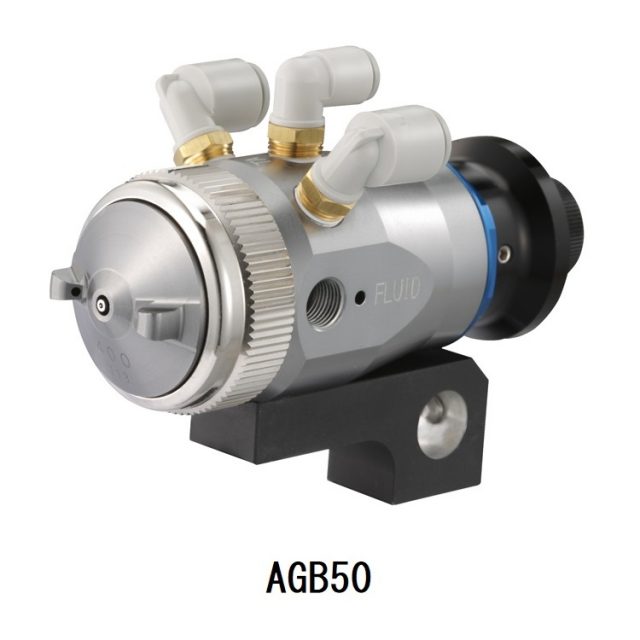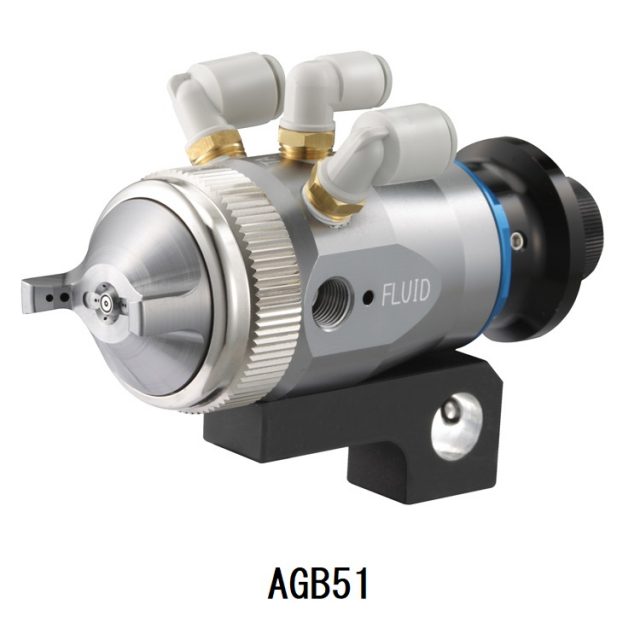 FEATURE
Consistent paint transfer results

  A newly-developed nozzle and air cap combination provide a high rate of paint transfer, contributing to a reduction in

  paint costs.
Remarkable paint film quality

  A newly-designed, coaxial nozzle offers uniform paint film quality with excellent atomization.
Lower running costs

  A newly-developed needle seat structure improves durability when switching the spray mechanism ON/OFF,

  contributing to a reduction in running costs.
Compact, light-weight design

  A 10% reduction in length and 30% reduction in weight compared to previous models provide a compact, light-weight

  design. Multiple guns can easily be equipped to a single robot, contributing to an increase in productivity.
Specialized nozzle

  This standard-equipped nozzle's rate of paint transfer is about 10% better than former models.
SPEC
Product name
Pearl gun
Micro Ace
Model
AGB50
AGB51
Max. fluid pressure
0.6MPa
0.6MPa
Max. air pressure
0.6MPa
0.6MPa
Dimensions (L x W x H)
119×44×91mm
119×44×91mm
Mass
430g
430g
Nozzle
φ1.0
φ1.1
Air cap

HN400A (sold separately)

Select from HN600A, HN800A

(sold separately)

Fluid outlet diameter
IN OUT Rc1/8
IN OUT Rc1/8
Air hatch
φ8-6mm
φ8-6mm
Structure/features
For metallic pearl coating
-
Note) Make sure to purchase air cap separately.
CASE STUDY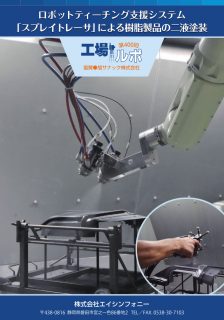 Two component paint coating for plastic products by Robot teaching support system 'Spray Tracer'
Metal/metal parts

Plastic/resin
Used paint:

Solvent paint
Learn more
They introduced the robot coating system which can read the trajectory of hand spray coating, and generate robot spray programs automatically. This system makes robot teaching easier and quicker. As a result, the productivity has been improved about 1.5 times and the quality has been stabilized.
Return to overview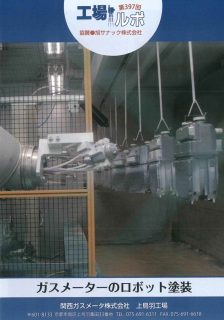 ガスメーターのロボット塗装
Control panel/switchboard
Learn more
ガスメーターや感震器の製造、販売を行うメーカー。設備の老朽化に伴い、品質保持や塗装効率向上、塗料使用量の削減、省人化を目指し、塗装ロボットシステムを導入しました。膜厚の適正化により、塗料使用量を20%削減した他、省人化や作業環境の改善など様々な効果をもたらした事例です。
Return to overview
CONTACT
Please feel free to contact us for any inquiries or questions regarding the coating equipment and engineering.
CONTACT
Please feel free to contact us for any consultations or questions related to the services of Coating Equipment Division.